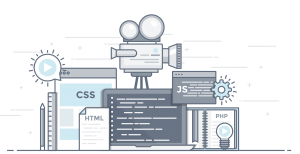 Quality Programming Work
GOTSSOM is Media company located in California. We specialize in all around media contents and programming made from the ground up. We only use the best knowledge for our work. All projects are developed using best.
ERP SYSTEM DEVELOPMENT
(Enterprise Resource Planning)
Streamline and automate

Fast-track business and processing report and financial report

Maximize business visibility and control

Predict and prevent risk

Everyone an easier way to work

High efficient to work
DESIGN & PRINTING
POSTER DESIGN

WEBSITE DESIGN

ADVERTISING DESIGN

BUSINESS CARD DESIGN

BOOKLET DESIGN

ETC DESIGN

PRINTING PRODUCTION
MEDIA CONTENTS
Shooting photo/ video
Edit photo/ video
Motion graphic
Social media contents
Advertising contents
Let's work together
If you have a creative project in mind, get in contact with GOTSSOM, INC.! When it comes to quality programming & media contents, we are the first you should call. We are looking forward to hearing from you.
GOTSSOM, INC.
Fullerton, California

Copyright 2020-2021 - GOTSSOM, INC.